NIPNLG Proudly Announces its 2017 Member Honoree:
Shoba Sivaprasad Wadhia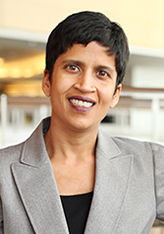 "Shoba is a principled leader, a staunch advocate for immigrants, and mentor to scores of students.

We are proud to recognize her contributions to our struggle and to our movement."

- Dan Kesselbrenner, Executive Director
Professor Shoba Sivaprasad Wadhia is an expert on immigration law whose research focuses on the role of prosecutorial discretion in immigration law and the intersections of race, national security and immigration.
One of the nation's leading scholars on the role of prosecutorial discretion in immigration law, Shoba's scholarship in this area has served as a foundation for scholars, advocates, and government officials seeking to understand or design a strong prosecutorial discretion policy. Her work has been widely published. Her book, Beyond Deportation: The Role of Prosecutorial Discretion in Immigration Cases, was published by New York University Press in 2015. At Penn State Law, Shoba teaches doctrinal courses in immigration and asylum and refugee law. She is Samuel Weiss Faculty Scholar and Clinical Professor of Law, and Director of the Center for Immigrants' Rights Clinic.
---
Honor Shoba with a Congratulatory Message
Please honor Shoba by placing a congratulatory message in the Commemorative Program Book being produced in her honor for the occasion. Deadline to be included is June 2, 2017.
[Note: Interior and Exterior covers are full-color; interior pages are b&w.]
---
Attend the Reception
A reception in Shoba's honor will take place at the annual AILA convention.

Friday, June 23, 2017 – 5:00pm - 6:30pm
Marriott of New Orleans, 41st Floor River Tower - Riverview 1
New Orleans, Louisiana
There is no fee to attend the reception. All are welcome.
---
Can't Attend? Make a Contribution
Even if you are unable to attend, please join us in congratulating Shoba on her important work by taking out an ad in the Commemorative Program Book, or by making a donation to NIPNLG in her honor.
Your contribution is 100% tax-deductible, and helps further the work of the NIPNLG as it fights for immigrants' rights in a hostile U.S. climate. It also helps us recognize an outstanding member of our community.

Deadline is June 2nd.
Thank you.