NIPNLG Proudly Announces its 2018 Member Honoree: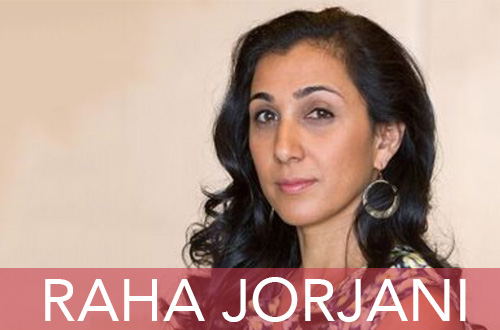 Raha inspires me and many others with her creative
and zealous advocacy. She leads by example.
-Dan Kesselbrenner, Executive Director, NIPNLG
Raha Jorjani is an Immigration Defense Attorney with the Office of the Alameda County Public Defender in Oakland, California, and directs California's first public defender Immigration Representation Unit. Under Raha's leadership, the Unit received the 2016 Program of the Year award from the California Public Defender's Association. From 2007 until 2014, Raha served as a Clinical Professor at the UC Davis School of Law in the Immigration Law Clinic. In 2015, she taught the first course offered at the UC Berkeley School of Law dedicated to "Crimmigration."
Since 2005, Raha has provided pro bono representation and legal assistance to hundreds of immigrants, most of them detained, before the Immigration Court, BIA, U.S. District Court, U.S. Court of Appeals, and California state courts. She litigated the Israel O. case before the California Court of Appeal, which resulted in the first published opinion in California to uphold one-parent claims to SIJS for kids in delinquency proceedings.
A longtime member of the National Immigration Project of the National Lawyers Guild (NIPNLG), Raha regularly conducts trainings for attorneys and state court judges on the immigration consequences of criminal convictions. In 2016, she was selected as one of eight fellows for the Rosenberg Foundation's Inaugural Leading Edge Fellowship and in 2017, she received the Community Service Award from the Iranian American Bar Association's Northern California Chapter.
---
Honor Raha with a Congratulatory Message
Please honor Raha by placing a congratulatory message in the Commemorative Program Book being produced in her honor for the occasion.
Deadline to be included is June 4, 2018.
[Note: Interior and Exterior covers are full-color; interior pages are b&w.]
---
Attend the Reception
A reception in Raha's honor will take place at the 2018 AILA convention in San Francisco.

Friday, June 15th, 5:00pm-6:30 pm
Hotel: Hilton San Francisco, Union Square
Meeting Room: Golden Gate 6-7, Lobby Level
There is no fee to attend the reception. All are welcome.
---
Can't Attend? Make a Contribution
Even if you are unable to attend, please join us in congratulating Raha on her outstanding work by placing an Ad in the Commemorative Program Book we are producing for the occasion, or by making a donation of any size in her honor.
Your contribution is fully tax-deductible to the extent permitted by law, and helps further NIPNLG's work to protect and defend immigrant rights in a volatile U.S. climate. It also helps recognize an outstanding member of our community for her leadership and commitment.
---
Reminder: Program Book Deadline is June 4, 2018.
Questions? Contact Pamela at pgoldstein@nipnlg.org or Arianna at Arianna.nipnlg@gmail.com
Thank you.